We all have our personal strengths and skills – whether it is: Woodworking, writing, renovating a home, fixing a water leak and more.
Managing a lawn insect control plan is difficult, if not impossible, without the knowledge of which insecticide is best for your lawn in Michigan. We all can't be experts in this field no matter how many articles we read online. There are countless products on the market that look similar to the untrained eye. Some of these products are best for early spring, while others are most effective in summer or fall according to the insect's life cycle.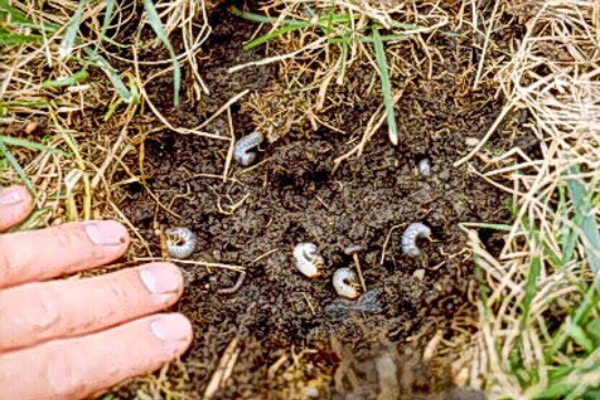 Who knew that lawn insect management in Michigan could be so difficult? Finding the best lawn insect control plan is not an off-the-shelf problem. Regardless of how you decide to detect and treat common Michigan insects for your yard, taking these steps can help identify issues that may be stressing your lawn.
Ensure you understand what may be causing your lawn issues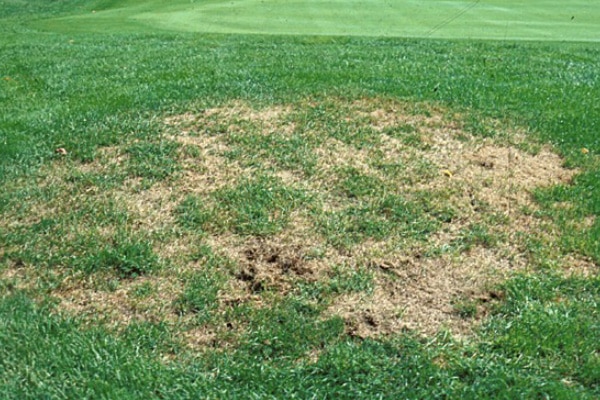 Lawn insect control is a common issue for many homeowners and can be a reason your lawn may not look the way you expect. However, there could be many reasons why your lawn is not getting the nourishment it needs to stand out in your neighborhood.
While lawn insecticide may be needed to help get rid of harmful insects in your lawn in Southeast Michigan, it may not be the only issue affecting your lawn. Even the best lawn insecticide plan will not help if you are overwatering or your lawn does not get enough sun or shade. It is possible your biggest issue may not be a pest or troublesome insect. Confirming that insects are damaging your lawn and that a lawn insect control plan is needed is the first step.
Make sure you identify the insect(s) that are giving your lawn fits
Once you confirm the presence of harmful insects, the next step is to develop a lawn insect management plan that yields results. Whether you use a liquid insecticide or a fertilizer for your lawn, it is important to understand which insect is causing the issue.
Four of the most common insects that typically cause damage to Michigan lawns are lawn grubs, chinch bugs, billbugs, European crane flies, armyworms and sod webworms. Lawn grub often will cause enough havoc so your grass blades wilt and patches of turf will turn brown and may eventually die. Other animals like crows and skunks may be seen feasting on your lawn because they are looking for grubs to eat.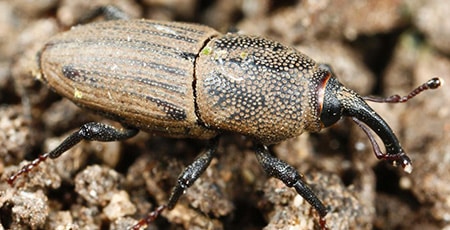 Billbugs are a weevil with a long snout that can also cause significant damage to lawns in Michigan. They can cause patches of your grass to brown or die and may be seen migrating to the lawn in the late spring or late summer.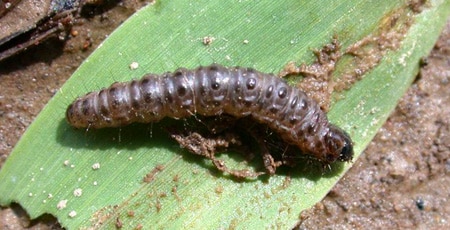 Sod webworms are particularly harmful to bluegrass lawns in Michigan, and can cause birds to peck holes in your lawn, leading to ugly brown patches that can grow into larger dead areas. Where grass is thinning in patches, simply inspect closely for grass clumps to confirm Sod webworms are your culprit.
Along with European crane flies, any of these bugs can feed on the turf blades in circular patches, with their saliva turning the grass to unattractive colors like yellow, orange, or brown. Depending on the type of insect that is causing the damage to your Southeast Michigan lawn, you may need varying degrees and types of lawn insecticide. Don't guess what the best solution is – be sure to speak with an expert.
Be on the lookout for signs of insects making your lawn sick
By the time the health of your lawn has noticeably waned, it can be difficult to find an immediate solution. Just like a human illness, the earlier your lawn insect control problem is diagnosed, the sooner you can react to the issue in an effective way with a lawn insect management plan for your Michigan lawn. Pay attention to what is happening around your lawn and if you see any of these signs, you will know that you may need the best insecticide for your lawn that you can find, depending on the cause.
Brown spots

Dead and dying grass patches

Wilting blades

Bite marks on grass

Holes in the soil

Thin or missing roots

Obvious insect presence and insect larvae
You don't need to have all the answers – you just need to contact a professional
A do-it-yourself approach can often only take you so far. Chances are you lead a busy life with many personal and professional responsibilities, and you simply do not have the time to be a lawn insecticide expert. Relying on advice you find online when instituting a lawn insect management program can be time-consuming and expensive. Furthermore, the advice you find on a lawn pest control solution may not even apply to your situation. Sometimes information on the internet is designed to cause do-it-yourselfers to keep over applying pesticides unnecessarily because they know people are just too busy to read the fine print about specific timing.
Our team of experienced professionals at Contender's can usually spot the issue(s) with your lawn in minutes and can go over the best options for instituting a lawn insect management program that will get noticeable positive results for your Michigan lawn. We know what to look for and the types of insects that are likely to harm your lawn. The best insecticide for your neighbor's lawn may not be the best insecticide for your lawn, meaning you could be throwing your hard-earned money away with nothing to show for it.
Best of all the professionals at Contender's can provide a free estimate that will address the issue with YOUR lawn. There is nothing more you have to do. We will recommend the best insecticide for your lawn, apply it, monitor it, and schedule any follow-up applications according to the lawn insect control treatment plan we have created. All you have to do is watch your lawn become green while your neighbors get even greener with envy.