Professional Flower Bed Weed Control Services in Michigan
Using a Scientific Approach to Solve a Recurring Problem
Request a Free Estimate
Professional Flower Bed Weed Control Services in Michigan
Using a Scientific Approach to Solve a Recurring Problem
Request a Free Estimate
Weed Control Services for Flower Beds
The management of weeds within a landscape bed requires a multi-faceted flower bed weed control approach using scientific expertise to control weeds without just throwing hard work and labor costs at the same recurring problems week after week. It's important that this weed control is properly target so as not to harm beloved plants or flowers.
At Contender's Tree & Lawn Specialists we know this, and we understand the need to reduce extensive labor costs while also meeting prompt service requirements. This is especially true during rainy periods when most landscape companies fall behind schedule. Here is how we at Contender's can make the worst of situations manageable and understandable for you.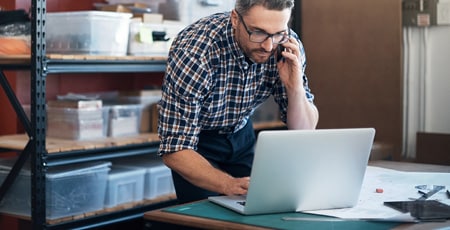 Data-Driven Property Analysis
Contender's utilizes state-of-the-art sophisticated computer software as part of our flower bed weed control services which allows us to quickly identify the properties that are in need of service based on real time data that is collected daily. Every weed germinates based on growing degree days or GDD. Weather station data pulled from various field stations in Oakland County help us monitor timing.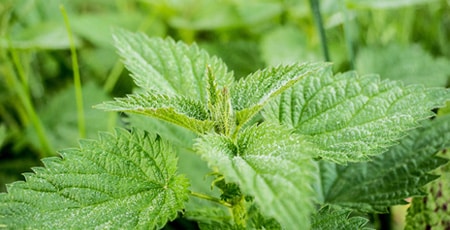 Effective Flower Bed Weed Control Plans
Our knowledge and identification of weed species helps us customize the right products for your property as the season evolves. Whether we identify annuals, bi-annuals or perennials, you can feel comfortable knowing we will employ the best flower bed weed control services for your property throughout the season. Spraying Roundup all season long won't suffice with us!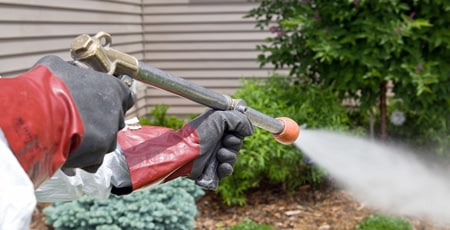 Our Goal: Kill Aggressive Weeds
If a company was hired to pull weeds the previous year, we will expect a bumper crop of bi-annual weeds in April as the snow melts, as well as a flush of annual weeds in late spring and early summer. Our goal is to keep killing the weed population that was so aggressive during the pulling routine from the previous year. Normally, we see a flush of weeds after a 1″ rainfall, but for this first season it may only take 0.5″ to cause the same re-growth. Despite this fact, please bear with us as we knock down the high population of seeds within the soil.
How YOU can stay out of the weeds
Sunlight and water are all it takes for rapid weed growth to occur. The following tips from Contender's landscaping experts will help manage flower bed weed control and keep weeds at bay. Grasses are the most persistent problems during the season, so we advise everyone to be vigilant about keeping grass clippings on the lawn only. Cleaning up the flower bed edges twice per year will help you maintain a clean and well-manicured property. Contender's does not provide this service, but any reputable landscaper could handle this task for you.

Keep the landscape beds mulched with 2-3" of mulch annually.

Prevent over-irrigation by shutting off the sprinkler system for 2-3 days after heavy rain.

Only irrigate landscapes 2 times a week for 3-5 minutes per zone.

If you have annual flowers, adjust lawn zones to overlap and water them daily instead of soaking the entire landscape zone.

If you pull weeds, discard them so they don't regenerate in the beds or lawns.
Try to keep grass clippings out of the flower beds when mowing so grass doesn't start growing in the flower beds.
Ensure you get the best weed control services for flower beds
Let one of our certified professionals help you today.