Build Strength & Reduce Maintenance
Tree growth regulator service can be instituted to help in various situations. Reducing branch elongation creates tighter, thicker branching, making plants stronger and more capable to withstand ice storms and wind shearing. Due to slowed growth, you may save money with fewer trimming and maintenance appointments.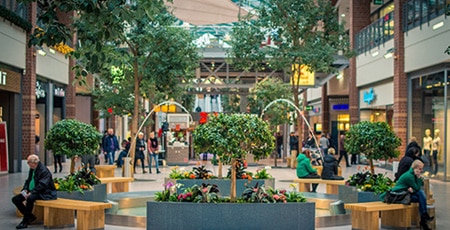 Growth Regulators for Trees
Slowing tree growth by 33% each year during a 3-year period works well for trees that are reaching their desired stage of development while also reducing expensive trimming costs. Fruit and nut trees can have their fruiting greatly reduced by this service as well, minimizing the cleanup maintenance in your yard. We can even perform a growth regulator on cottonwood trees, greatly reducing the amount of cotton they produce each summer, covering your lawn each day!
Shrub Growth Regulator Service
Hiring a Professional Landscaper or Gardener to trim your shrubs can be very expensive. We can ensure that you will have to do that much less often, while keeping your property looking cleaner for longer periods between trimming. For Yews and Boxwoods, we recommend a shrub growth regulator service to keep them clean and sharp, so the spring application of growth regulators made to your hedges will slow growth for 3-6 months, reducing labor time for the next trimming. We want shrubs to flush healthy spring growth – yet it is important to keep maintenance costs under control by reducing the dollar per hour you are being charged by full service landscape companies to trim hedges 2-3 times a year.
Growth regulating services we offer
Air-Spading /
Verti-Mulching
We can alleviate soil problems by loosening compacted soils through air-spading and/or verti-mulching. This intensive procedure can be performed without risking any damage to underground sprinkler lines, power and landscape lighting wires. For those with recent construction or trees with girdling roots that need to be extracted and removed, we are experts at improving tree health using a tree growth regulator service plan even in complex situations.
Cabling and Bracing
Using the latest advanced technologies, we are capable of securing important trees in the best manner with the least follow up. Don't just hire your lawn mowing service to wrap a cable through a piece of hose. Call us to demonstrate a healthier approach to cabling & bracing.
Ornamental Pruning
Any one can trim flowering and decorative trees however the knowledge and expertise of making the right cuts can affect future growth and the cost to fix problems can be far worse than the initial cost of paying someone 25% more to trim correctly. Bad pruning practices will lead to excessive growth in the wrong places thus could take years to correct the tree's intended design and form.
Contact us for an analysis of whether a tree growth regulator service or shrub growth regular service could benefit you
Let one of our certified professionals help you today.