Lawn Pest Control Services
Our effective pest control strategies are refined through experience
Request a Free Estimate
Lawn Pest Control Services
Our effective pest control strategies are refined through experience
Request a Free Estimate
Eliminating Pests from the Source
Contender's pest control services include: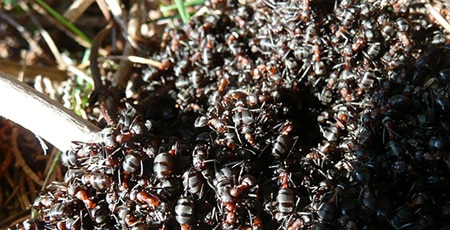 Spider & Ant Control
We treat your home's foundation, reducing the need to apply pesticides on the inside. Knowing this, wouldn't you want to minimize exposure to your family and pets? Contender's Bug Barrier program prevents the following crawling insects from invading your home: Earwigs, Pharaoh Ants, Spiders, Red Clover Mites, Boxelder Bugs, Stink Bugs and many others. You don't need to be home for us to apply our Bug Barrier. No waiting around, no scheduling hassles. And for flying insects that sneak inside, we offer an indoor no-mess, non-pesticide solution. Ask us! Our Pest Control Plus service includes all the above, PLUS control of Chipmunks, Voles, and Mice.
Mosquito Control
Mosquitoes biting you while you try to garden? Do you have a backyard event planned? Are mosquitoes ruining your family barbecues? We can help! Our season-long mosquito control service combats both larvae and adults so you can enjoy your property, even during rainy seasons. Most mosquito control companies save money by only utilizing quick knockdown products which then requires they are there every 3-4 weeks to re-treat. This is a great marketing tool to get a lot of exposure, because we believe you prefer less exposure interruption and a yard that has egg control to keep ahead of the plaques. Larvicides only target the mosquito eggs and when applied correctly will not be a negligible risk to your family, pets, bees, butterflies or even lightning bugs. Plus, reduce the risk of West Nile Virus to you and your family, as well as your pets. For outdoor events, we suggest a treatment 3 days before the event and at least 24 hours before the tent and tables are set up. Our mosquito control service provides season-long control with just 3 applications needed, yet if you ever have problems in-between simply call us, support is unlimited! Don't let mosquitoes ruin your summer—call Contender's today!
Mole Control
We control both Eastern and Star Nosed Moles. Moles produce 3 to 5 young in April, so if you see activity in the spring, there's likely a home on your property or least nearby. Activity visible in the "summer only" usually means moles couldn't find earthworms elsewhere and have expanded their search to your lawn and landscape where the grass could be greener and wetter. Earthworms are their main diet, not grubs. Grubs are just an appetizer to their normal diet. We have refined various techniques to eliminate moles. Because of our experience and expertise, we are able to provide you with season-long control with unlimited support which costs far less than our competitors who bill monthly or per visit.
Chipmunk Control
When a client signs up for the Pest Solutions Plus program they receive spider and ant control PLUS control of rodents through the use of traps and anti-coagulants. We will periodically service the traps within fake plastic rocks located around your home. These plastic rock traps are locked so no child or pet can inadvertently get into trouble. Chipmunks breed twice a year in May and August and their rapid population generates quick swells of activity that can cause extreme damage to patio and walk foundations as well as landscape and irrigation wires. Chipmunk tunnels within landscape mulch beds are often confused with mole tunnels. The difference in tunnels is that moles prefer air tight tunnels without any visible holes along a run while Chipmunks will scurry just under the mulch popping in and out and they will also tunnel deep under sidewalk and patio foundations with excessive digging material piled near entries.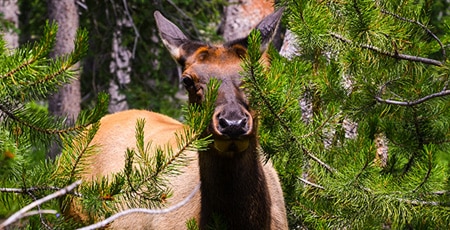 Deer Repellent
We use deer repellents that do not stain or produce obnoxious odors and are the safest for the environment, effective and long-lasting animal repellents on the professional market. Our seasonal strategy ensures the most effective control of deer on your property. In Late Winter (Feb-Mar), we apply to your landscape as deer populations starve, causing them to aggressively seek out food sources from plants they typically avoid. Throughout the season we are maintaining the browsing that will occur on a regular basis. In Pre-winter (Nov/Dec), we apply to your landscape to prevent buck rubbing and feeding as they experience their runt stage.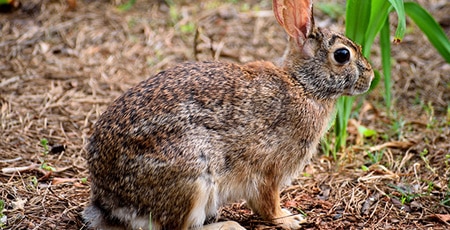 Rabbit Repellent
We use products that do a great job preventing rabbits from feeding. Typical control occurs from May through October. Under heavy rainfall it may need to be re-applied sooner than the normal 5 week period of control.
Rid your property of annoying and destructive pests
Let one of our certified professionals help you today.