Protect Trees & Shrubs From Insect Damage
No plant health care program is complete without some form of insect control for trees or shrubs. As nature constantly demonstrates, it is usually the most beautiful plants that attract insects and pests. We know how important your plants are to you, and we understand the need for us to be careful around your property. If you're tired of messy sprays or having a company show up every week and interrupting your activities, we may be the perfect fit for you. We're the company that provides insect control for trees and insect control for shrubs and the rest of your yard without unnecessary visits to reapply products that aren't long-lasting.
Our understanding of insects and our advanced team training sets us apart from the competition. Our goal is to control insects in bushes and reduce pests from becoming a visual distraction, without eliminating all insects. This is a healthier, more balanced strategy, so beneficial insects are least impacted by our service.
Contender's is a proud protector of honey bee pollinators.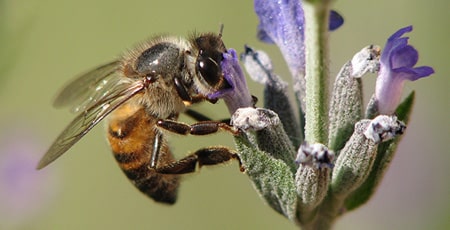 For plants that attract these pollinators, we incorporate the right type of systemic insecticides that have been proven not to affect reproductive plant parts. A rose can be protected from Japanese Beetles feeding on their leaves where the system is designed to preserve stem and leaf tissue, allowing for more sustainable photosynthesis. Following our treatment, the Japanese Beetles may still mass on the flowers themselves, but once they attempt to feed off the leaf tissue, they will ingest the insecticide. This is the only way to ensure bees aren't directly impacted while also maintaining sufficient insect control for trees.
Safeguard your trees and shrubs from harmful insects
Let one of our certified professionals provide you with insect control for your trees and shrubs today.